Find the Latest Episode here: Ep.1235: Can Christianity and Paganism Work Together? (Part I) June 27, 2022
Comparing the core values of Paganism with biblical Christian principles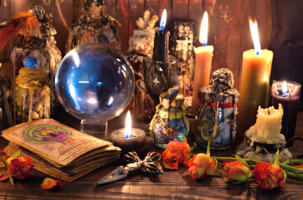 Our religious world has changed dramatically. In the bygone days of generations past. we had clear lines that marked our differences. Christianity seemed to have clear and unmistakable differences from religions like Hinduism, Buddhism and Druidism. Our "one God and one Savior" approach stood in an entirely different category from the multiple-god eternal journey that mystics and Pagans adhered to. Here we are in the age of technology and some of those lines and distinctions seems to be blurred and fading. There are movements now announcing that we are all really on the same journey of enlightenment and walking side-by-side on similar paths. So, is this a good thing? Should Christians embrace these seemingly progressive steps, or should we run the other way?
LIVE PODCAST every Monday 8pm eastern at ChristianQuestions.com
"Think about the Bible like you never have before" with the weekly podcast dealing with life's issues from a biblical perspective. Hundreds of podcast episodes on relevant topics are available now. Listen here or through the Christian Questions App. To read along while you listen, each episode has a companion CQ Rewind Show Notes document with every scripture quoted and much of the commentary.
Our Mission: In accordance with God's grace and providence: make the gospel available to all ages and to as many areas of the world as possible, reach out through podcasting, multimedia offerings, Bible study tools and technology, plant seeds of hope for the burdened and for those searching for answers in their lives, lead people to truth and an understanding of God and His plan for us.
Christian Questions began airing on terrestrial radio June 12th, 1998, as a result of an idea to produce a Christian radio talk show that was Bible-based, where discussion and opinions would be welcome. We welcome listener participation, encouraging a nurturing, politically-free environment of expression on biblical topics. We aim to provide a comprehensive perspective on a wide range of studies and delve into the deep layers of Scripture.